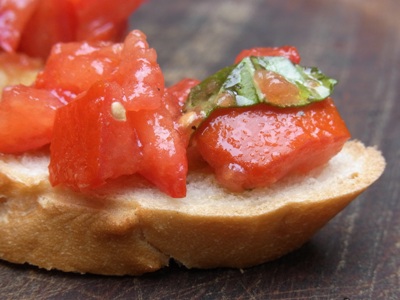 Difficulty:
*/*****
Servings:
4 people
Time:
15 min

Ingredients:

- 4 Slices of country bread
- 4 Ripe tomatoes
- 1 Mozarella
- 2 Cloves garlic
- Extra-virgin olive oil
- Basil
- Salt and pepper
Preparation:
1) Wash the tomatoes, cut them in half, take out the seeds and put them in a colander so that they lose their vegetation water.

2) Cut the mozarella in slices and the tomatoes in dices. Season with olive oil, salt and pepper and add coarsely chopped basil leaves.

3) Cut the bread into slices and let it roast on the grill.

4) Rub the surface of the bread with a clove of garlic and set the tomato on top.

5) Serve the bruschetta with still hot and crispy bread!

The best bruschetta is usually prepared with Tuscan style country bread roasted on charcoal or embers!