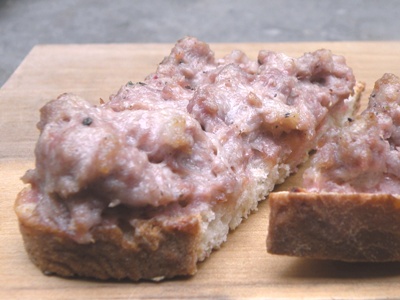 Difficulty:
*/*****

Servings:
4 people
Time:
20 min

Ingredients:

- Country bread
(about 8 slices)
- 2 pork sausages
- 100 gr Stracchino
- Extra-virgin olive oil
- Ground black pepper




Preparation:
1) Cut the bread into slices (not too thin) and divide them depending on the size you prefer for the Crostinis; toast them slightly.

2) Remove the skin of the sausages and knead them well with the stracchino cheese until you get an homogeneous paste.

3) Spread the paste on the bread slices and sprinkle over fresh ground black pepper.

4) Put in the oven heated to 150 degrees for 10-12 minutes.