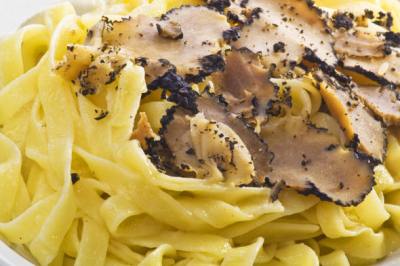 Difficulty: ***/*****
Servings:
4 people
Time:
15 min.
+ 20 min.

Ingredients:

- 2 Anchovies in olive oil
- 2 Cloves of garlic
- Extra-virgin olive oil
- truffle oil
- 60 gr truffle
- 320 gr Fettuccine, fresh if possible
- Salt and pepper
This recipe applies to both the white truffle and the summer truffle, fresh if available, or preserved in oil (see our products).
Preparation:
1) Clean the truffles with a toothbrush and cut them into thin slices with a special truffle slicer (put some aside for the final decoration).

2) Sweat gently 2 cloves of garlic in a pan with some extra-virgin olive oil.

3) Remove the garlic and let melt down 2 knobs of butter adding a tea spoon of truffle oil (or the oil in which the truffle slices were preserved).

4) Add the slices of truffle at very low heat and grate Parmiggiano cheese all over the butter.

5) Add gently the fettuccine that you will have cooked in the meanwhile. Correct the seasoning adding salt, pepper and truffle oil.

6) Serve and add the truffle slices you had set aside (or slice some fresh raw slices directly on the serving).