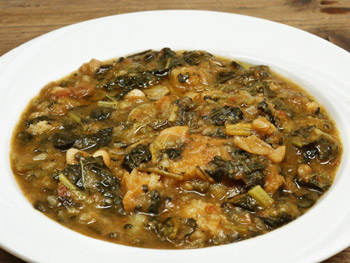 Difficulty:
*/*****

Servings:
4 people
Time:
2 h
+ 30 min.

Ingredients:

- 250 gr Stale Tuscan bread slices
- 300 gr Beans (toscanelli o cannellini)
- 300 gr Black cabbage
- 300 gr Kale
- 300 gr Chard
- 300 gr Potatoes
- 300 gr Carrots diced
- 2 Celery sticks sliced
- 2 Cloves of garlic minced
- 2 Red Onion sliced
- 3 Ripe tomatoes
- Extra-virgin olive oil
- Salt and black pepper
- 2 Branches of Thyme




Preparation:
BREAD SOUP:

1) Put the beans to soak for about 8 hours and then boil them in 2.5 litres of water.

2) Mash 200 gr of beans (keep the remaining 100 gr aside).

3) In the meanwhile fry in a terracotta dish the red onion, the two cloves of garlic, the celery and the parsley with olive oil. Reduce.

4) Add the tomatoes cut into pieces and let simmer for 10 minutes.

5) Clean and cut into strips the chard and kale.

6) Put the mashed beans in a pan with potatoes, black cabbage, kale and carrots.

8) Add the thyme.

9) Cook for about an 1 1/2 or 2 hours over low heat.

10) When all vegetables are cooked, add the whole beans and the bread, cut into thick, previously roasted slices.

11) Cook for a few minutes, turn off and then let it sit for several hours.

12) Pour the "Bread Soup" in a baking dish and sprinkle with red onion, pepper and a dash of olive oil.

RIBOLLITA:

1) "Re-boil" it for about a quarter of an hour in the oven.

2) Serve your Ribollita hot (or even lukewarm) without any adding cheese.