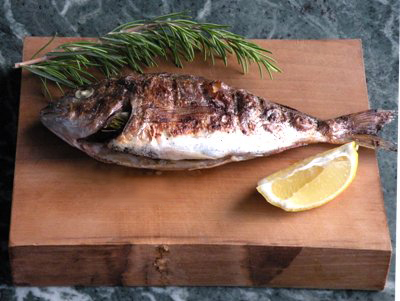 Difficulty:
**/*****

Servings:
4 people
Time:
30 min.

Ingredients:

- 4 Fresh sea breams
- 4 Cloves of garlic
- 4 Sprigs of rosemary
- Coarse salt
- Salt
- Extra-virgin olive oil and pepper
- Lemon
- Sprigs of sage




Preparation:
1) Gut and wash the sea breams (without removing the scales which will fairly prevent the skin from sticking to the iron).

2) Stuff each bream with one sliced clove of garlic, rosemary, extra-virgin olive oil, a slice of lemon and a pinch of coarse salt.

3) Sprinkle salt and pepper on the outside with a dash of lemon juice and extra-virgin olive oil. Put in the fridge for 2 hours to let the fish get the flavours of the seasoning.

4) Put the sea bream on the grill when the burning embers start getting white.

5) Brush the fishs with a sprig of sage soaked in olive oil.

Serve immediately!


Side Dish:
Salad, potatoes, fresh tomatoes.