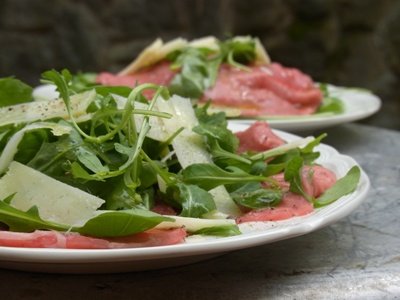 Difficulty:
*/*****

Servings:
4 people
Time:
10 min.


Ingredients:

- 400 gr Beef cut in very thin slices
- 100 gr Parmesan
- 100 gr Rocket salad
- Extra-virgin olive oil
- Sea salt
- Black pepper in grains
- 1 Lemon





Preparation:
1) Spread the meat slices on the plates and sprinkle with olive oil, salt, ground pepper and a dash of lemon juice.

2) Put the rocket on the meat and sprinkle with thin slivers of parmesan.

3) Serve and add extra-virgin olive oil, salt and ground pepper.